A Day in the Life
A typical day at i3 begins at 9:00AM with a group breakfast. i3 Scholars are often joined for breakfast by current graduate students or staff/faculty from the iSchool at Pitt; these meals serve as a great opportunity to ask questions about graduate school and academic life. After breakfast, students participate in an academic workshop or professional development seminar, which last between one and two hours depending upon the material and level of discussion. Lunch is typically scheduled between 12:00PM and 1:30PM. When lunch is provided for the group, a video or article is often discussed. For those days that do not have a group lunch scheduled, i3 Scholars can explore nearby restaurants in Oakland (or catch up on some sleep back in their dorm).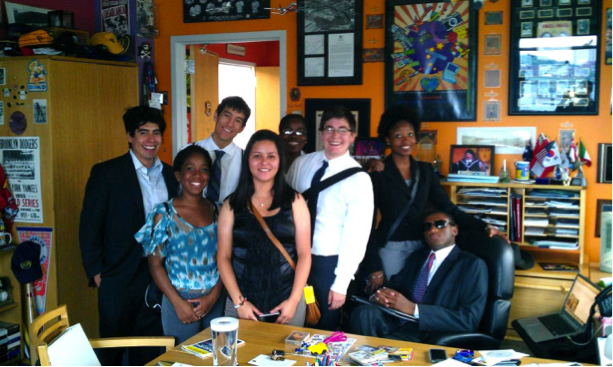 Afternoons at i3 vary quite a bit from day to day. i3 Scholars may have another academic workshop or professional development seminar, listen to a guest speaker, or go on a field trip to business/research or site-seeing locations around Pittsburgh. For example, in 2011, i3 Scholars were able to enjoy an address by Mr. Larry Quinlan, Global CIO of Deloitte, as well as visit the Pittsburgh Supercomputing Center. Future i3 Scholars will be able to take advantage of similar opportunities for networking and practical learning from industry experts.
In the evenings, group dinners are offered about half of the week. The other days students have additional free time to relax and tour the city. Entertainment or fun group activities may also be scheduled, such as attending a Pittsburgh Pirates baseball game or going to a movie. Weekends often include an outdoor activity, such as kayaking or geo-caching. Although the i3 curriculum is challenging and intense, we try to make sure the weekly schedule is balanced to provide enough free time and entertainment.