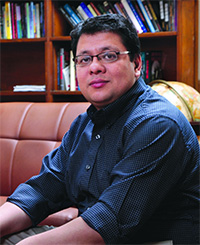 James Joshi has been promoted to the rank of Associate Professor, with tenure, at the School of Information Sciences. Joshi, who joined the School's faculty in 2003, is the lead faculty member for our Track of Study in Information Assurance and Security. His research interests include systems security, role-based access control, secure interoperability, distributed systems security, security and privacy of multimedia systems, security of XML documents, and systems survivability. Joshi received his PhD in Computer Engineering from Purdue University.
Joshi has received a number of grants including the prestigious National Science Foundation (NSF) Faculty Early Career Development (CAREER) Award. Joshi was recognized for his work on "A Trust-Based Access Control Management Framework for Secure Information Sharing and Multimedia Workflows in Heterogeneous Environments." He has also received funding from the NSF in order to create the curriculum in Security Assured Information Systems (SAIS) and to offer a scholarship program for students interested in the SAIS. Joshi has also received funding from the Department of Defense and secured equipment grants from CISCO Systems.
The faculty, staff and students at the School of Information Sciences congratulates James Joshi on his promotion.