What is the Security Assured Information Systems (SAIS) Track?
In response to the escalating need to educate a workforce trained in the development, design, and implementation of secure information systems, the School of Information Sciences (SIS) at the University of Pittsburgh created Security Assured Information Systems tracks in both the master's degrees in information science (MSIS) and telecommunications (MST). Both degrees provide students with the opportunity to take a variety of other courses that complement the security focus. See below for SAIS scholarship opportunities.
For the MSIS degree, the security track courses include: (More Info)
Introduction to Computer Security
E-Business Security
Developing Secure Systems
Cryptography
Client Server
Security in E-Commerce
Network Security
For the MST degree, the security track courses include: (More Info)
Introduction to Computer Security
Network Performance
Mobile Data Networks
Cryptography
Cellular Radio and PCS
Infrastructure Protection
Network Security
Why Information Assurance and the SAIS Program?
Providing information systems security and assurance has emerged as one of the most daunting technological and social challenges of recent times. According to the Bureau of Labor Statistics, more than 800,000 new jobs are projected in the next decade in computer- and security-related areas. These new jobs are classified by the bureau as being in the very high earnings category.
The SAIS tracks integrate theoretical, cognitive, and systems and technology courses, resulting in a unique blend of theoretical background and applied experience.
As an SIS graduate, you will have the distinct ability to understand and solve emerging real world information assurance problems from diverse perspectives. The SAIS track will provide you with broad theoretical principles and practical skills in the design, development, and deployment of highly assured networked information systems aided by hands-on labs funded in part by the National Science Foundation. You will possess the knowledge to effectively evaluate and certify security features of products and deployed systems and manage information security in any organization.
Scholarships
The Graduate Program in Information Science and Technology is pleased to offer two scholarship opportunities for students enrolling, or enrolled, in the Security Assured Information Systems (SAIS) track at the School of Information Science. Please be advised that there is a citizenship requirement for each scholarship as they are funded by the United States Government. Each scholarship opportunity described below offers the following benefits:
Paid tuition
Paid books & fees
Monthly stipend (covers living expenses)
Paid federal summer internships
Federal Cyber Service:
Scholarship for Service (SFS)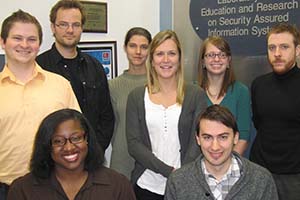 LERSAIS has been awarded a grant from the National Science Foundation (NSF) to fund several Federal Cyber Service: Scholarship for Service students.
Scholarship for Service (SFS) is a unique program designed to increase and strengthen the cadre of federal information assurance professionals that protect the government's critical information infrastructure. This program provides graduate scholarships that fund tuition, books and fees, conference travel, a paid federal summer internship and a $32,000 per year stipend. The scholarships are funded through a grant awarded by the National Science Foundation.
(Decision on our request for renewal of funding for this is pending for 2017 - so please check back again)
Information Assurance
Scholarship Program
IASP has inactive since 2014 - info below is for historical purpose only.
Graduate students and rising junior or senior undergraduates accepted at or enrolled in one of the non-DoD institutions designated as a CAE/IAE are eligible to apply for full scholarships to complete a bachelor's, master's or doctoral degrees, or graduate (post-baccalaureate) certificate programs, in an information assurance discipline.
Students selected for the program will receive scholarships. During breaks in their academic studies, Information Assurance Scholars will receive hands-on experience in information security internships. In return, scholars must agree to some restrictions and obligations regarding curriculum, GPA and post-program employment. If all conditions are met, Information Assurance Scholars who elect to serve a period of obligated service as civilian employees will receive full-time permanent positions with the Department of Defense on program completion. Alternately, scholarship recipients may elect to serve a period of obligated service as a member of the National Guard or Reserves.
Student Checklist for Applying for Scholarships
Students interested in the above scholarships are encouraged to apply as early as possible as other opportunities may be available. Note that the deadlines are different for each scholarship. Contact Dr. Joshi with any questions.
Apply for Admission to the MSIS program (IS Program, Admissions, and Financial Aid)
Send the following to Dr. James Joshi:

Resume
Transcript (unofficial)
Goal Statement
Letters of Recommendation (optional)

Please note that the materials sent to Dr. Joshi are separate from the MSIS application requirements.