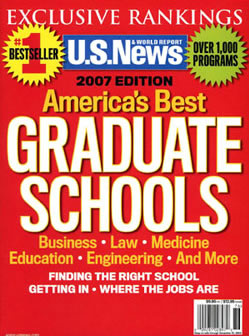 The School of Information Sciences is proud to announce that its ALA-accredited Master of Library and Information Science degree program has been recognized as one of the top-ten programs by US News & World Report in the magazine's 2007 edition of "America's Best Graduate Schools." The MLIS program as a whole was ranked seventh in the nation, based on a 2005 survey, and the MLIS Specializations received top honors as well.
The Medical Librarianship/Informatics Specialization at SIS was ranked #1 among its peers. The Archives and Preservation Management Specialization was scored fourth in the country, as was the Services to Children and Young Adult Specialization. The School Library Certification Program was ranked #9; the Digital Libraries Specialization was ranked #10; and Information Systems received a #5 ranking in the magazine's report.
SIS is extremely pleased with the MLIS program's rankings: "We are thrilled to be a top-rated graduate school of library and information science," notes SIS Dean Ronald L. Larsen. "Our program is being recognized for its excellence, its academic rigor, and its support of the students. The School is being acknowledged for offering outstanding specializations in the MLIS program. These rankings confirm the success of the program, as well as the quality of our faculty, alumni, and students."
MLIS degree programs are ranked by US News & World Report every seven years. Only schools accredited by the American Library Association, 50 in all, are included in the survey. The magazine surveys deans, program directors and senior faculty from these accredited schools, asking them to evaluate the academic quality of the MLIS programs.