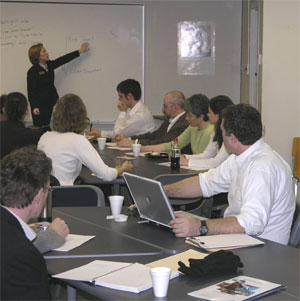 The School of Information Sciences Alumni Society and Beta Phi Mu Honor Society invite all MLIS students to "LIS Professional Development Day," scheduled for Saturday, March 24, 2007. The sessions, hosted by members of the Alumni Society, will take place on the Fifth Floor of the SIS Building from 1:00 pm to 5:00 pm. Alumni presenters will discuss common sense tips for interviewing, writing a resume, and how to handle a telephone interview. Students will gain practical knowledge that will improve their career search skills.
Members of the Alumni Society will review resumes submitted by the students, conduct mock interviews, and hold telephone interviews. Each session will include feedback from the Alumni presenters, based on their experiences both as an employer and as a job seeker. Advance registration for the sessions is limited: current MLIS students are encouraged to register on-line at http://www.sis.pitt.edu/people/alumni/prof_days_form.html. The deadline for registration is March 15, 2007. Students should submit their resumes in advance to baz7@pitt.edu.
Click here for the current LIS Professional Development Day brochure. Don't miss this wonderful opportunity to sharpen your job-hunting skills!