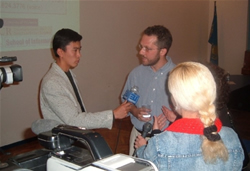 Dr. Stuart W. Shulman, Associate Professor at SIS, was invited by the U.S. State Department to present a lecture series in Kazakhstan on September 11-13, 2007. The three part lecture series entitled "Web 2.0-Library 2.0: Citizen-Powered Information" was attended by representatives from 33 Kazakhstani libraries.
While in Kazakhstan, Dr. Shulman participated in a round-table series on citizens' education about e-government issues hosted local non-governmental organizations. Additionally, he was interviewed for both a local newspaper and "Kitap Alemi" magazine, a magazine on library issues.
Dr. Shulman, who joined the SIS faculty in 2004, has expertise in digital citizenship, e-government, service learning, and public policy, and is the Director of the Sara Fine Institute. This visit marks the second time that Shulman has been invited to Kazakhstan by the U.S. State Department.