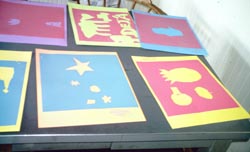 MLIS student Kelly Rottmund has undertaken a unique project as part of her studies here at the School of Information Sciences. Ms. Rottmund has been working with young children as they craft their own zines at the Braddock Carnegie Library during the summer. This six-week program offers nine-year-olds the chance to write and draw content, to photograph and screen print the zines, and to celebrate their creativity.
A zine, according to Wikipedia, "is an abbreviation of the word fanzine, and originating from the word magazine … is most commonly a small circulation, non-commercial publication of original or appropriated texts and images. More broadly, the term encompasses any self-published work of minority interest." These young artists and writers will show off their work at the Braddock Carnegie Library on Saturday, July 28 at the "zine Art Show" from 10 am to 5 pm.
This project received support from the Grable Foundation, the School of Information Sciences, and Dr. Margaret Mary Kimmel.