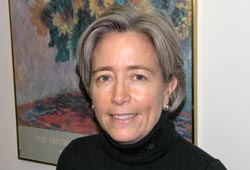 Those attending the American Library Association (ALA) 2007 Conference, will see a familiar face at the world premiere of the first full-length film to focus on the work and lives of librarians. SIS faculty member, Patricia Lawton, plays a role in "The Hollywood Librarian: A Look at Librarians through Film" which will be introduced on June 22 at the ALA Conference in Washington, DC.
Written and directed by Ann Seidl, the documentary features many interviews with real librarians interwoven with movie clips of cinematic librarians. The film deals with the themes of censorship, intellectual freedom, children and librarians, pay equity and funding issues and the value of reading. The film also features an interview with author Ray Bradbury, who is famous for (among other things) his support of libraries.
The writer and director hopes that the documentary "will increase the public's awareness of the complex and democratic nature of librarianship in the age of technology." Dr. Lawton plays "The Cataloger." To see a trailer of the film, featuring Dr. Lawton, go to http://www.youtube.com/watch?v=A8kd4fC1bwo.