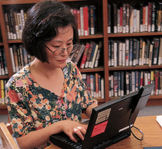 There will always be a need for librarians, archivists and other information professionals. National media coverage of the need for librarians is increasing rapidly. Professional journals, popular media and the web feature discussions and projections about the critical role that librarians will play in the future. Below, you'll find links to current news articles about the Library and Information Science discipline and the career forecasts for information professionals.
33 Reasons Why Libraries and Librarians are Still Extremely Important
Excerpt: "Instead of regarding libraries as obsolete, state and federal governments should increase funding for improved staffing and technology. . . . society should foster a culture of guides and guideposts. Today, more than ever, libraries and librarians are extremely important for the preservation and improvement of our culture."
Thoughtful Design Keeps New Libraries Relevant
Excerpt: "The Internet brought predictions of the demise of the library and, on some campuses, the marginalization of librarians themselves. But now librarians increasingly find that administrators, professors, and students see the library building as essential, a romanticized heart of the campus. At the same time, though, libraries have changed radically from the stodgy and stuffy repositories of years past. Some people wonder whether libraries have loosened up too much, and what libraries will look like in the future."
Secure Our Professional Future
Excerpt: "Beyond the assumption of retirement at 65, a major underlying supposition of the impending shortage posits a one-to-one replacement of existing positions. In the post-9/11 economy, however, with libraries across the country facing funding crises, is this realistic?"
The New Library Professional
Excerpt: "Viewed collectively, the members of the under-35 cohort are a harbinger of a new kind of academic library professional, one whose traits bear directly on the ability of libraries to thrive amid the continuing revolutions in scholarship, teaching, and learning."
"The Hottest Jobs (For College Grads)" Parade Magazine April 15, 2007
Forensic accountant
Combines accounting, auditing and investigative skills: $30,000-$150,000
Logistics manager
Plan, implement and control flow of goods or services: $35,000-$118,000
Corporate librarian
More companies need specialists to manage information: $37,000-$93,000
Emerging media specialist
Managers in Web content and online marketing need communication skills and tech savvy: $26,500-$100,000
Physical therapist
Aging baby boomers will drive the increasing need: $34,600-$74,000
Information security
Workers plan, implement and support network security: $47,000-$122,000



Source: Challenger, Gray & Christmas Inc., with data provided by the Bureau of Labor Statistics and industry sources
"A Hipper Crowd of Shushers" - New York Times July 8, 2007