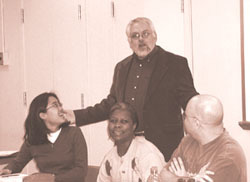 As part of the University of Pittsburgh's graduate program in archives and records management, a lecture series is starting in November 2003 to draw attention to the continuing importance of the record in an age valuing short-term information and instant gratification.
The lectures and discussions will focus on research projects, observations about recent scholarship, issues of public policy and recordkeeping, and speculations about the nature of records and recordkeeping's place in modern society.
The lectures, some formal and some informal group discussions, will be offered by professors, graduate students, and friends of the graduate program in archives and records management.
After the lectures, there will be an informal gathering at a local pub to continue the conversation.
The lecturers are uncompensated and unsupported, and they are making these presentations as a gesture of commitment to the inquiry about humanity's impulse to create, maintain, and use documents. Attendees at the lectures are invited to make contributions to the Archives Fund which will be used in the future to underwrite an expansion of the lecture and discussion series.
The lecture series is co-sponsored by the Society of American Archivists Student Chapter.