Special Sessions
The Organizing Committee of the IEEE IRI 2011 Conference is pleased to announce four Special Sessions: power and energy, health informatics, robotics, energy and education.
Special Session on Power and Energy (CFP)
| | | |
| --- | --- | --- |
| | Special Session Chairs: | Suresh Vadhva, California State University, USA |
Topics on the Future of Power and Energy include, but are not limited to:
Automated Systems
Demand Response
Home area Network
Distributed Generation
Micro Grid
Power System Planning
Power System Protection
Renewable Energy Resources
Rules, Policies and Standards
Smart Grid
Special Session on Health Informatics (CFP)
| | | |
| --- | --- | --- |
| | Special Session Chairs: | Tansel Özyer, TOBB University, Ankara Turkey |
| | | Jia Zeng, Baylor College of Medicine, Huston, TX, USA |
| | | Keivan Kianmehr, University of Western Ontario, London, ON, Canada |
Topics in health informatics include, but are not limited to, the following areas:
Machine learning and data mining techniques
Resource management and optimization
Information integration and sharing in biomedicine
Language parsing methods in biomedicine
Data analysis and disease biomarker prediction
e-health and web-based information services
Evaluation and use of information technology in healthcare
Healthcare applications of mobile and pervasive technologies
Visualization
Human-computer interaction
Decision support systems
Computer aided diagnosis.
Special Session on Robotics
Topics in robotics include, but are not limited to, the following areas:
Manipulation
Robot control
Swarm intelligence
Bio-inspired robotics
Human-robot interaction
Human-centric autonomous systems
Information integration in robotics
Intelligent information processing in robotics
Modeling and simulation in robotics
Machine learning techniques for robot systems
Sensor networks in robotics
Computer vision
Evolutionary robotics
Rehabilitation robotics
Service robotics
Entertainment robotics
Humanoid robotics.
Special Session in Education
Topics in education include, but are not limited to, the following areas:
Sustainability
Educational software and development
Educational technologies using information system and integration
Integration of computers, internet, multimedia for educational purposes
E-learning and distance teaching
Multimedia and web-based education
Learning models for next generation curricula
Information re-use in applied science and engineering courses
Reusable information/leaning objects
Reusable knowledge components
Reusable learning systems
Instructional improvement and deployment using information reuse and integration
Information technology and integration in education
Models and experience with reuse and integration in intelligent computer-assisted instruction.
Special Session in Energy
Topics in energy include, but are not limited to, the following areas:
Information re-use in the public sector
Renewable energy
Re-use in energy generation
Authors who have special interests in any of these four areas are invited to submit papers through the IRI paper submission web site; please designate the special track for which you are submitting your paper. For further information, please contact: Dr. Gordon Lee at: glee@mail.sdsu.edu
Menu
Sponsored by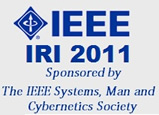 Society for Information Reuse and Integration (SIRI)