Registration

Important Information for Authors
The deadline for presenting author registration is June 10 June 20, 2011. It is important that at least one author per accepted paper registers at the member or non member rate on or before the deadline.
Member/Non Member registration includes the submission of either one (1) two (2) page poster paper, one (1) four (4) page short paper, or one (1) six (6) page full/regular paper.
Reduced rates are not available for publishing authors.
At least one author must register and attend the conference to present the paper. Authors who fail to attend and present their papers will immediately exclude their papers from further consideration for inclusion in the planned journal special issues.
To submit up to three (3) additional papers, the cost is US$300 per paper. The maximum number of pages per additional paper is four (4) pages for a short paper or six (6) pages for a full paper.
You may purchase up to two (2) additional pages for short paper and three (3) additional pages for full paper at a cost of US $100 per page.
For any registration question please send an email Suresh Vadhva vadhva [AT] ecs.csus.edu (copied to

jjoshi [AT] mail.sis.pitt.edu

)
To register, please click here.
Registration fee for conference

| | | |
| --- | --- | --- |
| Registration Fees | On/Before 15 July | After 15 July/Onsite |
| IEEE Member | US $495 | US $620 |
| Non Member | US $620 | US $775 |
| Student/Life Member | US $300 | US $375 |
Registration fee for workshop and conference
| | | |
| --- | --- | --- |
| Registration Fees | On/Before 15 July | After 15 July/Onsite |
| IEEE Member | US $695 | US $820 |
| Non Member | US $820 | US $975 |
| Student/Life Member | US $500 | US $575 |
Workshop

| | | |
| --- | --- | --- |
| Registration Fees | On/Before 15 July | After 15 July/Onsite |
| IEEE Member | US $250.00 | US $250.00 |
| Non Member | US $250.00 | US $250.00 |
| Student/Life Member | US $175.00 | US $175.00 |
Menu
Sponsored by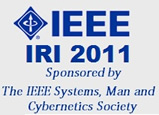 Society for Information Reuse and Integration (SIRI)