!Converted with LaTeX2HTML 95 (Thu Jan 19 1995) by Nikos Drakos (nikos@cbl.leeds.ac.uk), CBLU, University of Leeds >
---



Next:
Functional Overview of
Up:
Architecture and Structure
Previous:
Agent Interactions
---
The main window of CASCADE has five different areas as shown in Figure 4. These are: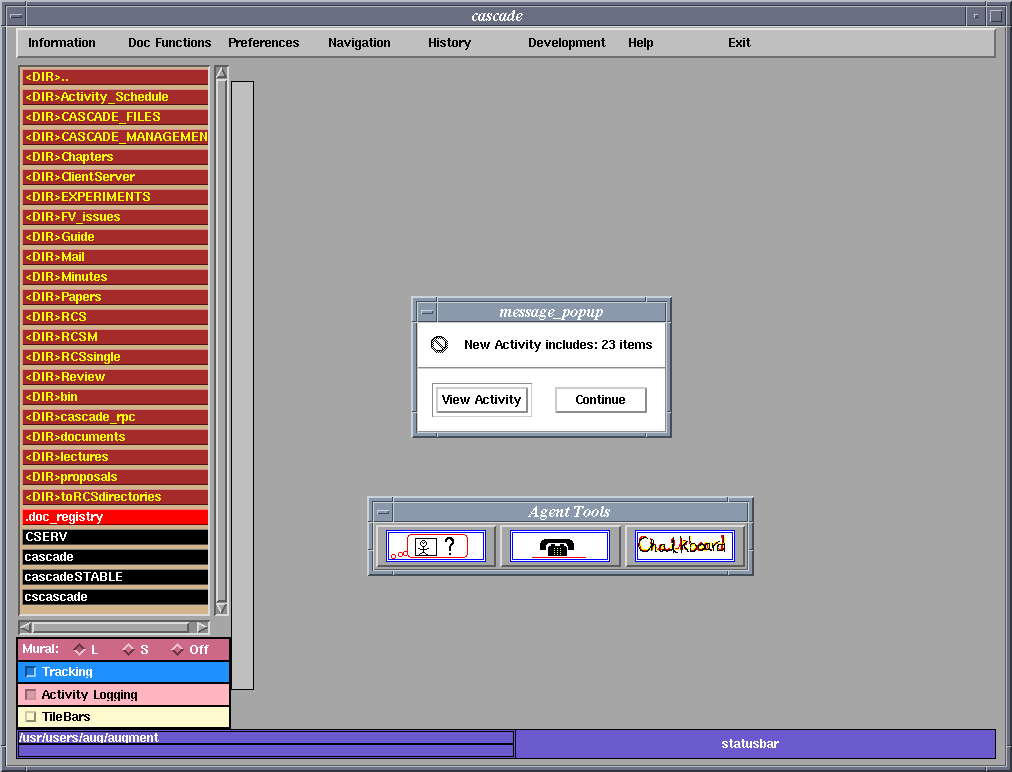 Figure 4: Main window of CASCADE

The Document area which displays the document and related comments. It is the large gray area that makes up most of the screen. When a document is selected, it will be displayed in this area. You may note that there is a light gray bar running vertically down the left of the document area. This is called the mural and will display an abstraction of the contents of an entire document when it is visible.

The Command menu goes across the top of the screen and contains buttons and pop down menus that access tools and agents to facilitate work including user information, document information, user preferences, document navigation, history, development, help and CASCADE exit.

The File/Directory area on the left of the screen displays the directory of documents and provides access to individual documents or subdirectories. The top button of the first bar always takes a user up one level. If the user is not on the first bar, this will be a more button. If there are more buttons than will fit on a single bar, the bottom button will say ``more''.

The Location bar on the bottom left of the screen shows the current directory and the current document (if one is open).

The Status bar on the bottom right of the screen displays message or error reporting and context sensitive information. The user will see the words ``Activity: NONE'' in the Status bar area when there has been no activity since the user's last login. This message will appear instead of a message window indicating the number of things that have occurred since the user's last use.
---



Next:
Functional Overview of
Up:
Architecture and Structure
Previous:
Agent Interactions
---
---
Michael Spring
Mon Dec 16 14:39:59 EST 1996