!Converted with LaTeX2HTML 95 (Thu Jan 19 1995) by Nikos Drakos (nikos@cbl.leeds.ac.uk), CBLU, University of Leeds >
---



Next:
TileBar
Up:
Landmarks
Previous:
Landmarks
---
The current implementation of the Mural shows all hypertext links that exist in a given document. Figure 4 shows a document containing a large number of hypertext links, of which only a few are visible in the display.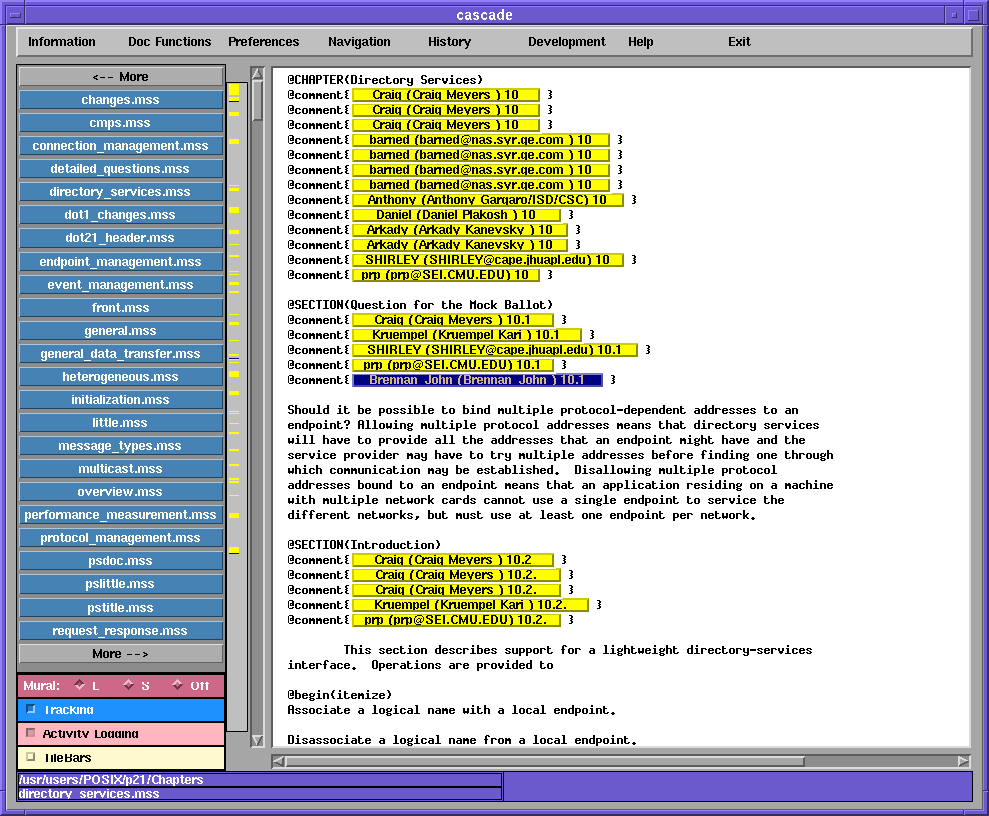 Figure 4: A Document with Mural

The Mural, to the left of the scroll bar, represents a miniaturized view of the links in the entire document. The Mural, like the scroll bar, represents the full document. The portion of the panel co-extensive with the scroll bar thumb represents the portion of the document visible in the display window. Each of the color-coded rectangles in the Mural indicates the location and type of a link in the document. Using the Mural, the user can immediately see all the links in the document and move to that part of the document which contains links, or contains links of interest. In a recent study of the use of CASCADE to assist in the mock balloting of one of the POSIX standards, the mural was used by the editor to rapidly check those comments which had been made but not classified. (In this case, new comments appeared as blue links and classified comments appeared as a yellow links.) The Mural allowed the 20-200 links in each file to be surveyed in a fraction of the time that would have been required as a result of scrolling.

The Mural can be used to depict any structural features of a document. For example, it is rather trivial to plot each line of the file in the mural, showing headings, lists, paragraphs, etc. It would also be possible to show any subset of copymarked structures in a structurally copymarked document. In this way, all headings, or tables, or equations, or warnings, etc. could be selectively displayed in the mural. Finally, if editing versioning were being controlled and if ownership of changes to the text were being tracked, then some form of color coding might be used to show where particular individuals had made changes.
---



Next:
TileBar
Up:
Landmarks
Previous:
Landmarks
---
---
Michael Spring
Sun Sep 22 09:13:45 EDT 1996