School of Information Science - Hall of Fame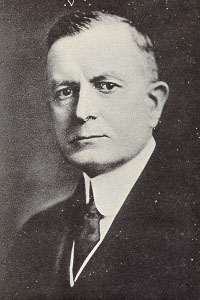 Thomas J. Watson, Sr.

Born:

February 17, 1874

Died:

June 19, 1956

Field:

Computing industry

Focus:

Founded International Business Machines (IBM) Corporation and drove its early evolution.

Country:

United States

Era:

1900 to 1949
Thomas J. Watson, Sr. is considered the founder of International Business Machines (IBM) Corporation and is widely recognized as the driving force behind the evolution of the computing industry giant. His most impressive talents were for sales, and he was considered the greatest salesman of his time.
After a few smaller positions, Watson's career really began when he became a salesman for the National Cash Register (NCR) Company, where he eventually became a general sales manager. He left that position to become president of the Computing-Tabulating-Recording (CTR) Company. Within a decade, he merged CTR with IBM, taking the latter's corporate name following the merger. By the early 1950s, IBM owned more than 90 percent of the market for tabulating machines and was the subject of a civil antitrust suit by the U.S. government.
Watson's life was not without controversy, most notably for allegedly deceptive sales practices at NCR and for profits derived from the pre-war Nazi government via IBM German subsidiary Dehomag. Despite these incidents, Watson worked hard to foster an environment of fairness and equal opportunity, and IBM made many contributions to the U.S. war effort in World War II. At his death, he was recognized by President Eisenhower as "a truly fine American . . . an industrialist who was first of all a great citizen and a great humanitarian."
Watson is famous for his motivational slogan "THINK," which is still used within IBM and is evidenced in the name of the IBM ThinkPad laptop computer. Shortly before his death, Watson turned over the reins of IBM to his son, Thomas J. Watson, Jr. The IBM Research Division today is housed to a substantial extent in the Watson Research Center, with offices in New York and Massachusetts.
Watson had no formal education, though he did receive honorary degrees from 27 U.S. colleges and universities, as well as four abroad.
Related Links
Bibliography