School of Information Science - Hall of Fame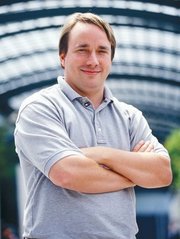 Linus B. Torvalds

Born:

December 28, 1969

Field:

Computer science; operating systems

Focus:

Created the Linux kernel and coordinates evolution of the Linux operating system.

Country:

Finland

Era:

1990 to present
Linus Torvalds is the creator of the popular Linux operating system kernel. Linux is a free open-source operating system that provides a UNIX-based alternative for personal computers. It is available under the GNU General Public License from www.Linux.org. Torvalds continues his role as project coordinator for Linux, which he developed on his own and with his own resources.
Linux was inspired by the Minix operating system, a teaching tool developed by Andrew Tanenbaum. Torvalds began the development of Linux in 1991, releasing the first full version of the kernel in 1994. Linux has since been productized by many vendors, the most notable of which are perhaps Red Hat and SUSE (now under the control of Novell).
Torvalds developed Linux while attending graduate school at the University of Helsinki in his native Finland. He obtained his master's degree in computer science in 1996 with a thesis entitled "Linux: A Portable Operating System." He was employed at Transmeta Corporation from early 1997 until mid-2003. He now works for the Open Source Development Labs in Beaverton, Oregon, an organization "dedicated to accelerating the growth and adoption of Linux in the enterprise," as well as to becoming the center of the Linux community.
Related Links
Bibliography