School of Information Science - Hall of Fame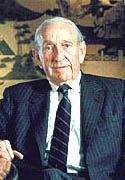 David Packard

Born:

September 7, 1912

Died:

March 26, 1996

Field:

Computer engineering; computer hardware; computing industry

Focus:

Cofounder of Hewlett-Packard Corporation, one of the world's leading vendors of computer hardware and software.

Country:

United States

Era:

1950 to 1969
With William R. Hewlett, David Packard was co-founder of Hewlett-Packard Company. In September 1993, he retired as chairman of the board and was named chairman emeritus. He served in that position until his death on March 26, 1996. The company headquarters are in Palo Alto, Calif.
He attended Stanford University in Stanford, California, and received a bachelor of arts degree in 1934 and a master's degree in electrical engineering in 1939. From 1936 to 1938, Packard was an engineer with the General Electric Co. in Schenectady, N.Y. In 1938, he returned to Palo Alto and the following year formed a partnership known as Hewlett-Packard Company with William Hewlett, a friend and Stanford classmate.
HP's first product was a resistance-capacitance audio oscillator based on a design developed by Hewlett when he was in graduate school. The company's first "plant" was a small garage in Palo Alto, and the initial capital amounted to $538. Packard served as a partner in the company from its founding in 1939 until it was incorporated in 1947. In 1947, he became president, a post he held until 1964, when he was elected chairman of the board and chief executive officer.
Packard left the company in 1969 to become U.S. Deputy Secretary of Defense in the first Nixon administration. He served in this capacity for almost three years and resigned his post in 1971. When he returned to California, he was re-elected chairman of the board of HP.
Over the years, Packard was active in a number of professional, educational, civic and business organizations. He was a fellow of the Institute of Electrical and Electronics Engineers, a member of the National Academy of Engineering and a lifetime member of the Instrument Society of America. He also was a co-founder and past chairman of the American Electronics Association.
Until his death, Packard had been president and chairman of The David and Lucile Packard Foundation since it began in 1964. This organization supports universities, national institutions, community groups, youth agencies, family planning centers and hospitals that are dependent on private funding and volunteer leadership.
Related Links
Bibliography