School of Information Science - Hall of Fame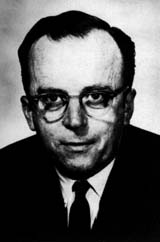 J.C.R. Licklider

Born:

March 11, 1915

Died:

June 26, 1990

Field:

Artificial intelligence; computer networks; Internet

Focus:

Envisioned a network of interconnected computers known today as the Internet. Encouraged development of computers as easy to use extensions of people in the workplace.

Country:

United States

Era:

1950 to 1969
J.C.R. Licklider's vision of interconnecting communities grew into a reality from 4 host machines in 1969 to an estimated 400 million users by the year 2000. His vision started as ARPANet and grew into what is known today as the Internet.
ARPA was originally established by the Department of Defense in response to Russia's launch of Sputnik in 1957. The United States now felt it must once again become dominant in science and technology. President Eisenhower designated monies for science education and research, which included the DOD's ARPA. Licklider was the first director of this new organization, which was originally funded with $7 million.
With his new position, he pursued his belief that computer scientists should develop systems that become an extension to people and that the computer should be an easy access tool that enhances the work environment. His visions also included interactive computing with many fronts: computer graphics, computer engineering and the psychology of human interaction. In his efforts, he encouraged several politicians to support within ARPA an Information Processing Techniques Office with a huge budget. He then incorporated univeristies such as MIT, Stanford, Carnegie Mellon, and Utah into this program giving them the freedom to pursue long term research goals.
Related Links
Bibliography