School of Information Science - Hall of Fame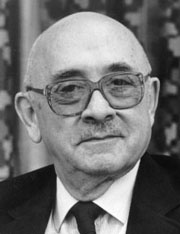 Allen Kent

Born:

October 24, 1921

Field:

Information science

Focus:

Pioneered theory and education of information sciences. Established the Department of Information Science at the University of Pittsburgh.

Country:

United States

Era:

1970 to 1989
Allen Kent is considered a pioneer in the field of information sciences. He started his career as a Research Associate at MIT. He then went to the Battelle Memorial Institute where he was a Principal Documentation Engineer. He was then became a Professor of Library Science at Case Western Reserve University. At Case Western University, he was later named the Associate Director of the Center for Documentation and Communication Research. Kent joined the Department of Library Science at the University of Pittsburgh in 1963. At the University of Pittsburgh in 1970, he established the Department of Information Science.
Kent wrote the first textbook in information science, "Mechanized Information Retrieval." He wrote the Encyclopedia of Library and Information Science, the Encyclopedia of Computer Science and Technology, and The Encyclopedia of Microcomputers. He was a member of the American Library Association, the Pennsylvania Library Association, the American Society of Information Scientists, the American Institute of Chemistry, the American Association for the Advancement of Science, and the Association for Computer Machinery. He retired from the University of Pittsburgh with the rank of Distinguished Service Professor.
Related Links
www.asis.org/Features/Pioneers/kent.htm
Bibliography
Interviews with Dr. Anthony Debons and Dr. James Williams.
Who's Who in Library and Information Services; Lee, Beran, Whiteley (1982).
The On-Line Revolution in Libraries; Kent, Galvin.
Electronic Information Handling; Kent.
Information Analysis and Retrieval; Kent.
The Structure and Governance of Library Networks; Kent, Galvin.
Information Science: Media Implications of the New Means of Information Organization; Kent.