School of Information Science - Hall of Fame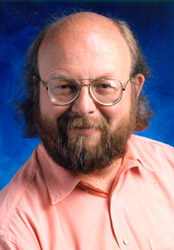 James Gosling

Born:

May 19, 1956

Field:

Computer science; programming languages

Focus:

Developed the Java object-oriented programming language, the Java compiler, and the Java virtual machine (JVM).

Country:

Canada

Era:

1990 to present
James Gosling created Java and implemented its original compiler and virtual machine. He also built satellite data acquisition systems, a multiprocessor version of Unix, multiple compliers, mail systems, and window managers. James Gosling joined Sun Microsystems in 1984 and is currently a Sun Fellow and Vice President of Sun Microsystems and the Chief Technology Officer of Sun's Developer Products group.
He is now working with his research team to create a tool that does semantic modeling for software developers. He also recently worked on "Jackpot," a research project where he explored ways to make programming easier. According to himself, his goal is to "make Sun's tools the best, most advanced, and most interesting out there." Sun Microsystems provides products and services for network computing. The company's vision is to have "everyone and everything connected to the network and the mission statement is to "solve complex network computing problems for governments, enterprises, and service providers."
Gosling received his bachelor's degree in computer science from the University of Alberta in 1977. He obtained his Ph.D., also in computer science, from Carnegie Mellon University in 1983.
Related Links
inventors.about.com/library/inventors/bljava.htm
www.javaworld.com/javaworld/javaone01
Bibliography
www.apple.com/pro/science/gosling
collections.ic.gc.ca/science/english/compsci/gosling.html