School of Information Science - Hall of Fame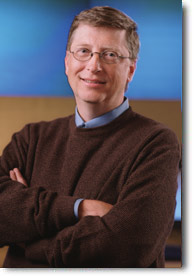 William H. Gates

Born:

October 28, 1955

Field:

Computing industry; computer science

Focus:

Cofounded and serves as Chief Software Architect of Microsoft Corporation, the world leader in software, services, and Internet technologies for personal and business computing.

Country:

United States

Era:

1990 to present
Bill Gates is the chairman and chief software architect of Microsoft Corporation located in Redmond, Washington. Microsoft's 2004 revenue was $36.8 billion. It employs more than 55,000 people. Microsoft's mission is to advance and improve software technology, and to make it easier, more cost-effective, and more enjoyable for people to use computers. Gates started Microsoft in 1975 with his friend, Paul Allen. They started developing software for personal computers because they believed that computers would be a valuable tool in every office and home.
Gates began programming computers at age 13. Gates developed a version of the programming language BASIC for the first microcomputer, the MITS Altair, while at Harvard. At Harvard he met Steve Ballmer, who is currently Microsoft's chief executive officer. Gates left Harvard before graduating in order to devote more time to Microsoft. In addition to being interested in software and computers, Gates is also interested in biotechnology. In 1999, Gates wrote "Business @ the Speed of Thought." The book shows how computer technology can solve business problems in fundamentally new ways. The book was published in 25 languages and held the number one position on the New York Times bestsellers list.
Philanthropy is very important to Gates. He and his wife, Melinda, have endowed the Bill & Melinda Gates Foundation with more than $27 billion.
Related Links
Bibliography