School of Information Science - Hall of Fame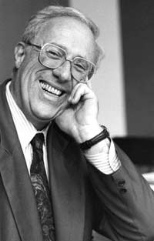 Michael L. Dertouzos

Born:

May 11, 1936

Died:

August 27, 2001

Field:

Computer science; human-computer interaction

Focus:

Researcher, educator, and visionary who understood and communicated the potential of computing.

Country:

Greece

Era:

1970 to 1989
Michael Dertouzos was a Massachusetts Institute of Technology (MIT) professor who helped establish the World Wide Web Consortium (W3C), a standards-making body that has been instrumental in keeping the Web stable and accessible. Dertouzos may have been most effective at reaching out to nontechnical people and making them understand the potential power of computing and its place in society. He wrote as far back as 1980 about an "information marketplace," an idea that would become widely known only after Tim Berners-Lee introduced the Web.
From 1974 until his death, Dertouzos served as director of the MIT Laboratory of Computer Science (LCS), one of the largest information-technology research facilities in the world. He had been on the faculty at MIT since 1964.
In addition to his career at MIT, Dertouzos served as chair of an advisory group on White House information systems during the Carter administration in the late 1970s. He represented the United States at the G7 Conference on the Information Society in 1995. And in 1998, he co-chaired the World Economic Forum on the Network Society in Davos, Switzerland.
Related Links
Bibliography