School of Information Science - Hall of Fame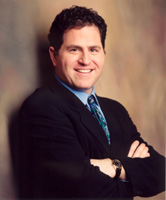 Michael S. Dell

Born:

February 23, 1965

Field:

Computing industry; Web commerce

Focus:

Founded Dell Computer Corporation, the world's leading vendor of personal computers.

Country:

United States

Era:

1990 to present
In 1984, Michael Dell founded the Dell Computer Corporation with an initial investment of $1,000. He originally went to the University of Texas in Austin intending to become a doctor. He loved working with computers, though, and began selling computers out of his dorm room. His idea was to sell computers directly to the consumer without going through retailers, designing and delivering a computer based upon the customerís own specifications.
Since then, Dell has grown into a $31.2 billion company. Dell's average earnings are $40 million per day, and it is one of the largest online commercial computer sellers in the world, with sales of $35 billion and profits of $2 billion in 2002.
Dell has earned the title of "Entrepreneur of the Year" from Inc magazine, was named "Man of the Year" by PC Magazine, "Top CEO in American Business" by Worth Magazine, "CEO of the Year" by Financial World and Industry Week magazines, and was on Business Week's list of "Top 25 Managers of the Year" from 1997 to 1999. In 1992, Dell became the youngest CEO to earn a spot on the Fortune 500.
On March 4, 2004, Michael Dell stepped down as CEO of Dell but will remain company chairman.
Related Links
Bibliography
www1.us.dell.com/content/topics