School of Information Science - Hall of Fame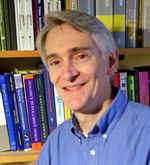 John Carroll

Born:

October 10, 1950

Field:

Human-computer interaction

Focus:

Conducted research in human-computer interaction, including the design of instructive materials and the teaching of computer skills to adult learners.

Country:

United States

Era:

1990 to present
John Carroll was born in Bethlehem, Pennsylvania. He holds a Ph.D., M.Phil., and M.A. in Psychology from Columbia University, New York, and B.A. degrees in Information Sciences and Mathematics from Lehigh University in Bethlehem, Pennsylvania.
Carroll is the Edward Frymoyer professor at Pennsylvania State University. In December 2003 he was appointed director of Penn State's Center for Human-Computer Interaction. He has also been a professor of computer science at Virginia Tech and director of Virginia Tech's Center for Human-Computer Interaction.
His research area is human-computer interaction, especially scenario-based methods for design and development, minimalist techniques for making information efficient, computer support for collaborative work and education, community-oriented computing, and social impacts of computing.
He is well known for his theories on adult learners and how best to teach them computing skills. Carroll focuses on the design of instruction and the accompanying training materials. There are five key points: First, learning materials should be meaningful and learners should be able to do them on their own. Second, people learning something new for the first time should be given realistic tasks as soon as possible. Third, instruction should help learners engage in reasoning on their own. Fourth, the materials used in training of a first-time user should help them recognize their errors and enable them to bounce back from these errors immediately. Carroll's final point is that learners should use training materials that are closely related to the actual system being learned.
His awards include the 1994 Rigo Career Award from ACM SIGDOC for his book "The Nurnberg Funnel: Designing Minimalist Instruction for Practical Computer Skill." In April 2003, Carroll received the ACM CHI Lifetime Achievement Award. He has written more than 250 technical papers, more than 25 conference plenary addresses, and 12 books. He serves on 10 editorial boards for journals and handbooks.
Related Links
Bibliography
books.elsevier.com/us/bookscat/authors
www.informatics.indiana.edu/ra/presenters