School of Information Science - Hall of Fame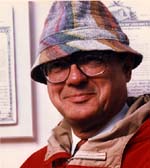 Charles W. Bachman

Born:

December 11, 1924

Field:

Computer science; databases

Focus:

Developed database, data structure, and software engineering tools and technology.

Country:

United States

Era:

1950 to 1969
Charles William Bachman spent over 44 years in the software development industry. He specialized in database systems and analyzed the concept and execution of pair relationships extensively. Bachman also introduced the earliest diagrammatic technique for representing relationships in database schemas, called data structure or Bachman diagrams.
He won the 1973 A.M. Turing Award, the highest honor of the Association for Computing Machinery (ACM), for his work. Bachman is somewhat unusual for a Turing Award winner because he spent his entire career as an industrial researcher rather than in academia.
Later in his career, he joined Cullinan Information Systems and became a freelance consultant, specializing in CASE tools and the reverse engineering of obsolete mainframe databases.
Related Links
www.acm.org/awards/taward.html
Bibliography