School of Information Science - Hall of Fame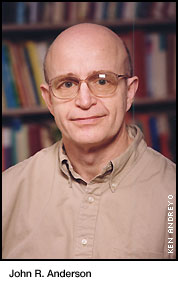 John R. Anderson

Born:

August 27, 1947

Field:

Cognitive psychology; artificial intelligence

Focus:

Conducted research and published books on cognitive psychology. Developed cognitive tutors.

Country:

United States

Era:

1970 to 1989
John Anderson received his B.A. from the University of British Columbia in 1968 and his Ph.D. from Stanford University in 1972. He has been at Carnegie Mellon University since 1978, where he is a professor of psychology and computer science.
In 1980 Anderson published his textbook "Cognitive Psychology and Its Implications." The culmination of this early period at CMU was the publication in 1983 of the research monograph "The Architecture of Cognition," which described a mature ACT (general theory of cognition) theory. The book remains Anderson's most frequently cited work.
Anderson attempted to build intelligent computer-based tutors around the ACT theory. The basic idea was to build into the computer a model of how ACT would solve a cognitive task like generating proofs in geometry. The tutor used ACT's theory of skill acquisition to get the student to emulate the model. This effort to develop cognitive tutors has been remarkably successful and is making a significant impact on mathematics achievement in a number of schools in the city of Pittsburgh.
Related Links
www.psy.cmu.edu/home/research/index.html
Bibliography
act-r.psy.cmu.edu/people/ja/ja-vita